UIBE Won the Third Place of Asia-Pacific Business School Desert Challenge
The Asia-Pacific Business School Desert Challenge, or simply ADC, was first started in 2012, and this is the fifth competition year. As a competitive event between Business School MBA, ADC has been the first competition among Asia-Pacific best business schools. Up until the forth challenge, 48 MBA schools have participated in the event, and it has acquired more and more attention and support from many schools. ADC embodies modern business leaders' challenge and adventure spirits. MBA education as the way to cultivate high-level management personnel, it not only needs firm academic theories and business practices, but also the faith of self-adjustment and self-growth under mal-conditions. The idea of ADC accords with the MBA education idea in UIBE.
The fifth ADC was held in Tengger Desert in the Nei Monggol Autonomous Region between April 30 to May 2. Over 1500 players from 72 business schools competed in such severe weather. After 70 kilometers competition in 3 days, UIBE Desert Team 5 won the best result ever in the school history with teammates' sweat and tears, they won the third place in the team competition and the Sandpiper Award, Teng Jiaqi, a MBA from Grade 2012 won the ninth place in women's group. With the effort of Team 5, they expressed the power and spirits of UIBE.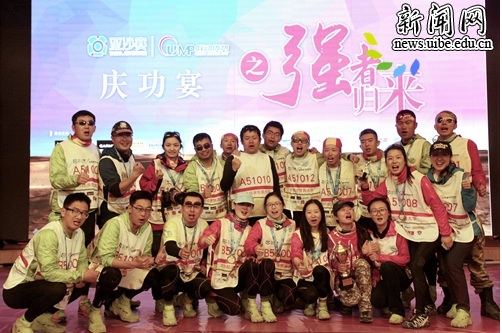 \