Vice President Zhang Xinmin Attended 2016 EAA congress in Europe
From May 11th to May 13th, UIBE Vice president Zhang Xinmin, on behalf of the Chinese Accounting Association, attended the 39th annual congress of European Accounting Association(EAA) held by School of Business and Economics, Masstricht University in Masstrichtc, Netherlands. Around 1200 scholars from different countries attended the 2016 EAA congress.
During the meeting, Prof. Zhang communicated with chairman of the meeting, Prof. Ann Vanstraelen from Masstricht University School of Business and Economics and the chairman of accounting association from other different countries. In addition, Zhang recommended China Journal of Accounting Studies (CJAS), the international accounting journal published by Chinese accounting Association, to the attendees of the meeting.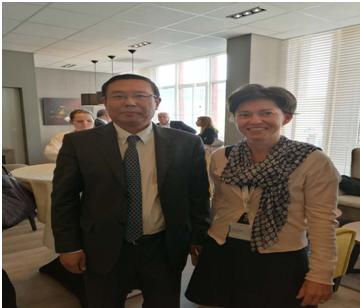 Prof. Chen Deqiu, associate dean of business school and Dr.Liu Xuejiao also attended the congress and joined the seminars and forums.